A Story of Love and Patience
When Toffee and her siblings came to our rescue they were frightened and super spicy. Thanks to a lot of love and patience they all turned around and found amazing homes…except for Toffee.  She was with us for over six months with zero interest and we just couldn't understand why. Now we know it took so long for her to get adopted so that she would end up with her perfect family!
A Message From Her Family:
This story started when I lost my senior cat, Poppy. Naturally, my husband and I were heartbroken. I noticed a huge difference in our year and a half old, Toby kitty. I could tell how much he missed her. He clung to us. He always wanted to play with Poppy, but she wasn't interested because she just wanted to live her best life on the back of the couch. I had previously thought of getting him a playmate, but didn't want to drive Poppy crazy. 
One day at work I approached a friend who had previously shown me some pictures of fosters. I remembered there was one kitty that hadn't been adopted. She put me in touch with Alleycats and Aristocats. I then saw a picture of 9 month old, Toffee. I tried not to let that adorable face suck me in right away. Then I got to read her profile. If anything was ever meant to be, it was this match. She was a complete mix of my late Poppy and my current cat, Toby. That was it, I was all in. I went home and talked to my husband and he agreed.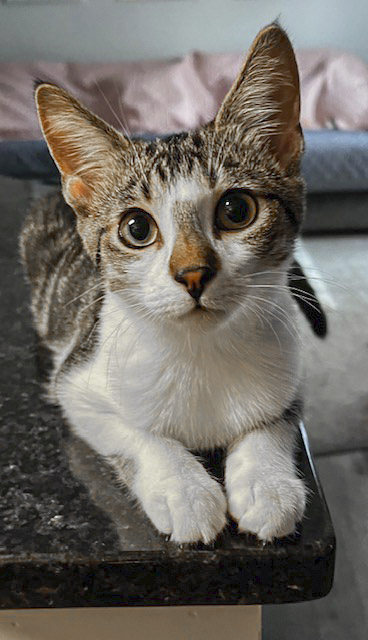 Next, I got to meet her though I already knew I wanted her. She was so brave and came out. I really thought she'd hide. Soon I got to bring her home. The best way to describe her is a big ball of sweetness. She loves birdwatching, belly scratches, and following around her mischievous brother. She gives the best "butt cuddles". She tosses her butt at you and slides down your body with the biggest purr. She greets her "Tuna man" (how we lovingly refer to my husband when he gives them wet food) in the morning with her beautiful voice.
I truly believe Toffee was waiting to be adopted by us. We couldn't love our little family more!