The Perfect Cat for the Perfect Family
Sometimes when speaking to applicants, we make suggestions based on the family dynamics.  Every now and then we find the perfect family for the perfect cat, or the perfect cat for the perfect family. 
Tico had been overlooked for months. His stress level didn't allow for his true personality to shine but we knew he had fantastic qualities. Tico had a great personality, adventurous, playful,  and LOVED dogs. He was great with kids and overall a perfect family cat! But it wasn't until we sent of video of Tico to his future family that a match was made.
A Message From His Family:
Our beloved family cat passed away during COVID at the old age of 18 years. Our boys took it the hardest. When we were ready to look for a new family cat, our oldest son had a very specific vision of having another black and white tuxedo kitten that was just like his old cat – and we found one that looked like a good fit on the Alleycats and Aristocats site so we filled out an application. After connecting with a volunteer adoption coordinator, she suggested a different cat based on our family profile and needs – a young, gray, male tabby who was often overlooked because he didn't do well in a crate and couldn't attend adoption events. While he wasn't the cat we were originally looking for, our sons liked his pictures and videos and we decided to go for it.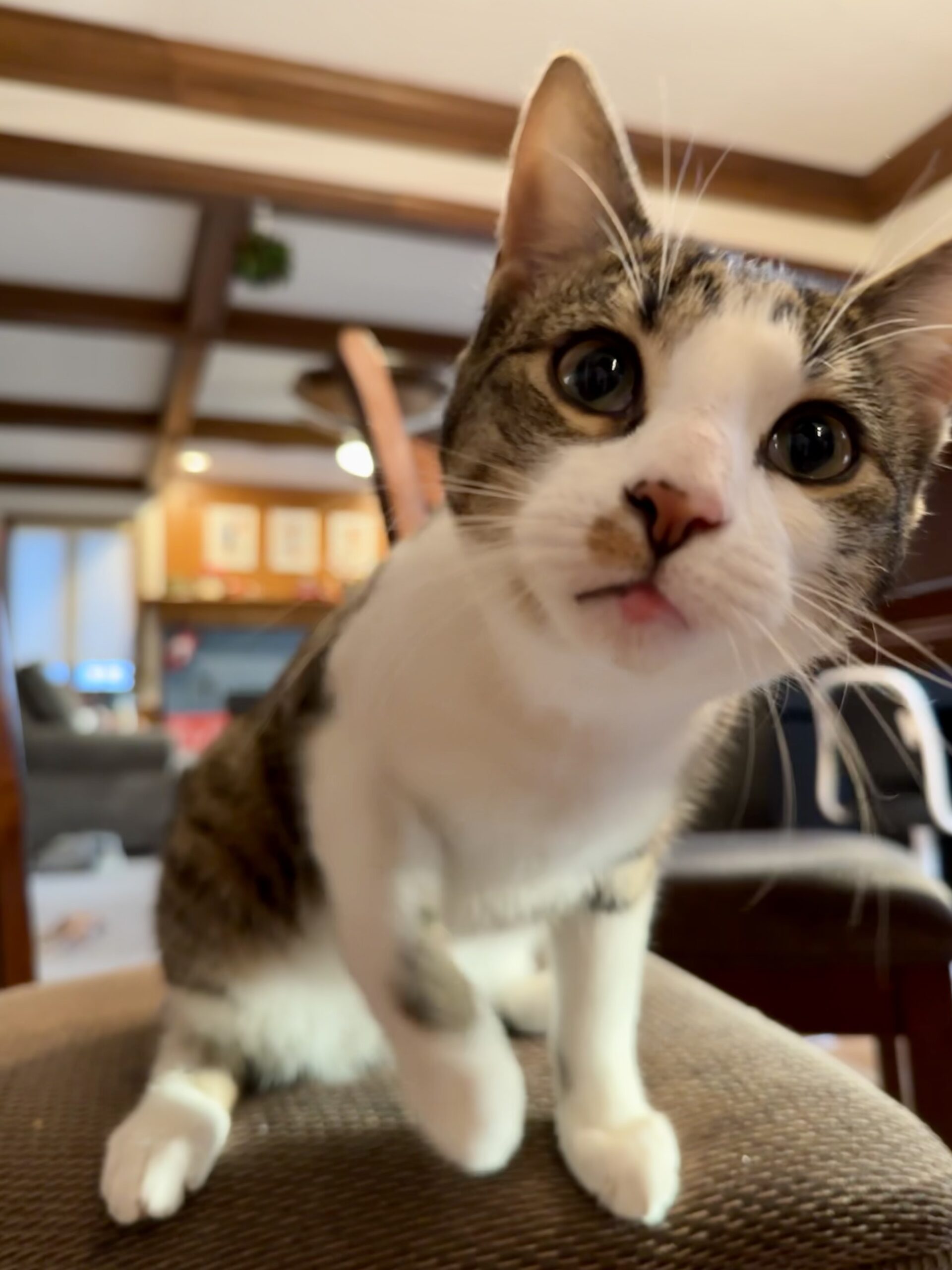 We brought Tico home and he blended right in. He was renamed Clark (after a favorite book character, Clark the Shark). He loves the kids – he plays with them, likes it when they carry him around, and snuggles in their beds. He absolutely adores our dog and she loves him – they play chase, bat toys around together, work together to steal the kids snacks, and like to sleep on top of each other by the fire. Clark is the right mix of playful and affectionate and we think his antics are hilarious. During the day, Clark likes to spend time with his two work-from-home parents, making lots of appearances on video conference calls and sitting in laps during meetings. He fits right in and despite only being with us for a few short months, it feels like he was always here. It's funny to think that we actually wanted another cat because we couldn't imagine our lives without Clark.