A Message From Their Family:
Ethan and I have been together for 10 years and bought a house about 2 years ago. Right from the start, I knew I wanted to have a cat. We knew we needed to wait to adjust to living together, and of course, finish moving in and getting settled! My family is from Wadsworth so I visit frequently. My mom was on the lookout for fish so kept stopping in at Wadsworth's Petco. I always like to check out the kitties. They bring joy to my eyes.
I went in there at the beginning of June 2022. I stopped and saw this very handsome large brown cat. He opened his eyes and came up to me from his nap. He had the largest fangs and the most beautiful green eyes! Behind him, I saw another smaller brown cat, who looked up at me but laid its head back down. I looked at the name tags and saw that the 2 cats were named Monkey Boy and Friendly. I thought they were the coolest thing. I snapped an image and sent it to my now Fiancé, Ethan. To my surprise, he said we could talk about getting a cat, but he wanted to wait until I returned from vacation with my dad. I kept coming back for the several weeks leading up to my vacation and I still saw Monkey Boy and Friendly in the cage. I was drawn to them.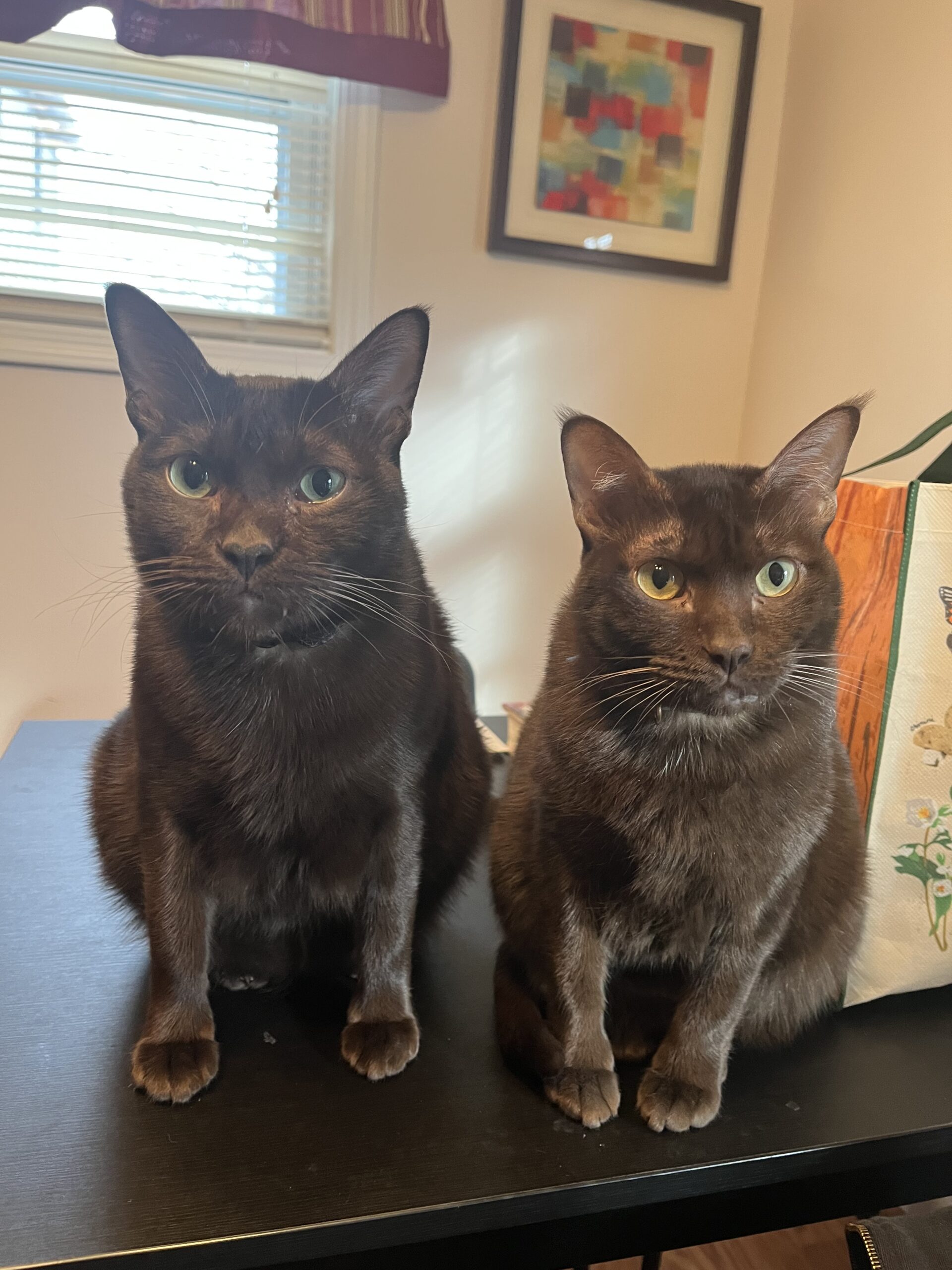 Things however went terribly south for my family in Wadsworth. During my vacation, my childhood dog suffered a sudden illness, and we had no choice but to euthanize him. I was devastated. A couple of weeks later now into August, my childhood cat, who was 19, let us know it was her time and we let her go as well. I was completely heartbroken; the whole family was.
I went back to Petco and to my surprise saw that Friendly and Monkey Boy were still there. I called Ethan and said I would love to adopt these cats more than anything. I know that sounds like I'm jumping the gun after losing 2 childhood pets back-to-back, but these cats are still here and I think it's for a reason. He agreed and later that day filled out the application for both Monkey Boy and Friendly.
Not even 24 hours after submitting my application, I got a phone call saying how ecstatic they were that I was interested in both cats and that based on the application, they would be happy to allow me to adopt them!
We picked the cats up that weekend, and the rest is history! The cats adjusted within hours. Monkey came out of his shell within days and became the hugest cuddle bug around. Friendly, whom we renamed Zora, has the hugest personality. Both cats love anyone that walks into the house and are the kindest souls. But more than anything, they love each other. I am thankful that they both came into Ethan and my life. They bring us so much happiness!